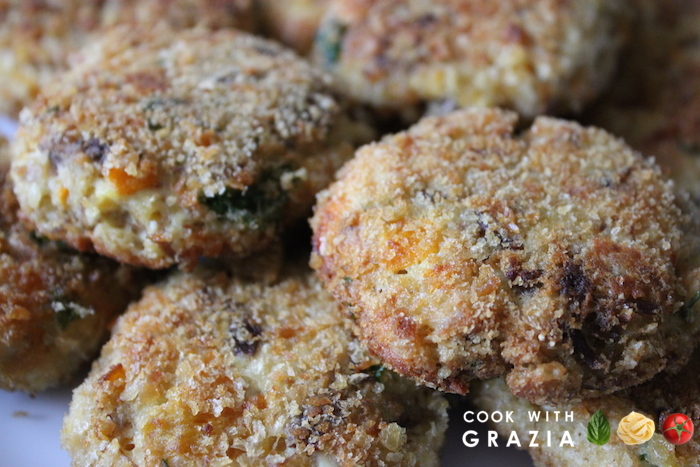 My family is so keen on this recipe that I sometimes cook too much meat on purpose, just to have leftovers – and an excuse to make Crocchette.
With the bounty of Thanksgiving leftovers just around the corner, this is a perfect, mouthwatering way to use those turkey scraps. But any leftover meat will definitely work with delicious results!
Crunchy and cheesy, these succulent crocchette [krohk/KEHT/teh]– or croquettes, in French, korokke in Japanese – will disappear, still warm, within seconds.
They make a wonderful snack or appetizer and are a great addition to any lunchbox, since kids love them so much. They can also be used to make a sandwich, just by adding a thin layer of mayonnaise and salad greens.
Prep time: 25 minutes
Total time: 25 minutes (for 12 oz. total of meat and vegetables leftovers. Here I used 9 oz. of meat and 3 oz. of vegetables, but any combination would work)
Yields: 12 crocchette
Ingredients:

9 oz. meat leftovers (here I used boiled meat, but roasted meat is perfect too)
3 oz. cooked vegetable scraps. (Totally optional. In this recipe I used one previously boiled carrot, but any leftover cooked vegetable side would work, including but not limited to potatoes, asparagus, zucchini, carrots, squash… If the vegetables are soggy, squeeze out excess water before using)
2 eggs, large, fresh
1 Tbsp. chopped parsley
½ cup Parmigiano-Reggiano cheese, grated (approx. 2 oz.)
¼ tsp. salt
¼ tsp. freshly ground pepper
1 cup fresh, dried breadcrumbs (hey! You can use any unused dried bread crumbs from your stuffing, too! Or make your own fresh by grinding some bread leftover. But just avoid Progresso's!!!)
1/3 cup extra-virgin olive oil

Tools:

Chef's knife
Cutting board
Large bowl
Large spoon
Dish
Large skillet
Paper towels

Chop the leftover meat and vegetables into ¼-inch pieces.
In a large bowl, mix them with the eggs, grated Parmigiano-Reggiano cheese, salt, pepper, and the chopped parsley.
Add a couple of tablespoons of breadcrumbs if necessary, if the mixture has too much liquid (or a couple of tablespoons of milk if your meat is very dry). The mixture will be soft, but you should be able to shape it into small balls.
Spread the remaining breadcrumbs on a plate.Using your hands, form 1 ½ -inch round balls, and flatten them so they become about 3/4 –inch high.Dredge the croquettes in the breadcrumbs to coat them evenly on all sides.
Heat the extra-virgin olive oil in a large skillet over medium-high heat.Gently place a few croquettes in the hot oil.
 
Fry until golden brown, about 3-4 minutes per side.
 
Remove and drain on paper towels.
 
Continue cooking until all croquettes are fried.Serve immediately, or wait until they cool: they will still be wonderful.