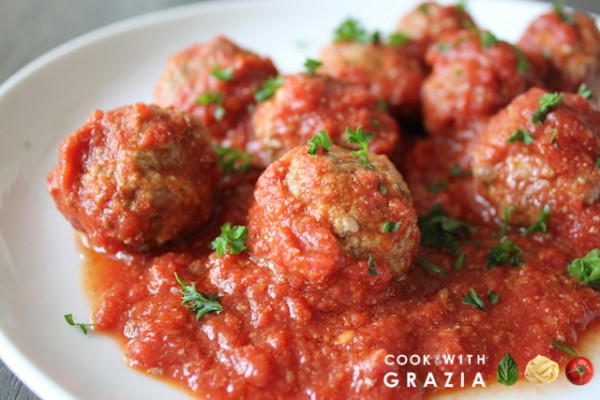 Meatballs in tomato sauce – or Polpette al sugo –  is a real classic of the Italian cuisine. This recipe is a life saver, since my kids love it so much.
That is why I usually try to cook a larger batch and freeze part of it to have a meal ready for another night.
A nice plate of meatballs pleases everyone – picky eaters included! Even though I am a food writer and cook a lot, as a mother of three, I too have my challenges when it comes to little ones!
All countries and cultures in the world have recipes for meatballs, often many different versions, and Italy, where I grew up, also offers many variations on the meatball.
Among the various recipes in my repertoire, this is the one I cook most often. It's served in a tomato sauce, and we usually eat this as a main course on a bed of polenta or creamy mashed potatoes, or, if none of that is available, with excellent crusty fresh bread.
Not on spaghetti? To tell you the truth… Not on spaghetti!
In fact, I find the combination strange! The first time I saw "spaghetti with meatballs" was in the unforgettable "Lady and the Tramp" Disney movie, which I saw as a child. But the first time I actually ate this iconic (dare I say) American dish was in recent years, when I moved to the US.
Spaghetti with Meatballs is in fact more like an Italian-American invention. Some regions of Italy offer similar traditional recipes, such as the polpettine sauce from Calabria, Sicily and Puglia Regions. These dishes feature tiny marble-sized meatballs and tomato sauce, which are often baked in layers of pasta. But the recipe the way it is conceived in the States, well… You will never find it in a restaurant in Italy!
Curiously, the Fettuccine Alfredo also has a totally American story…
Total time: 55 minutes
Serves 4-6
Ingredients:

2 lb. ground beef ~ 10-15% fat, fresh from the butcher counter: avoid pre-packaged ground beef, it usually contains too much blood
2 large eggs
1/2 cup Parmigiano-Reggiano cheese, grated
1 Tbsp. parsley, chopped
To taste, freshly ground black pepper
1 +1/2 tsp. salt
1/3 cup extra-virgin olive oil
1/3 cup white wine ~ any dry kind
1 large can of tomatoes (usually 28 oz.)

Tools:

Two wooden spoons
A large bowl
A large, 14-inch wide skillet with lid (preferably non-stick)

In a large bowl, mix the ground beef with ½ cup of grated Parmigiano-Reggiano cheese, 2 eggs, 1 tsp. salt, the parsley and a touch of freshly milled black pepper.

Using your hands, form golf sized meatballs (1.5- to 2-inch wide).

Pour the extra-virgin olive oil into the largest skillet you have and turn on the stove to high. Place the meatballs one next to the other, in one layer. They should not sit on top of each other, but rather next to each other, and they can sear evenly before adding other ingredients.

Sear them evenly on all sides, until golden-brown (it will take you 10-15 minutes).

Add the wine and evaporate.

Toss in the tomatoes and taste. If it the tomatoes are not too salty already (that will depend on the brand), add ½ tsp. salt. Bring back to a boil, then lower the heat to low and cover. Simmer for another 30 minutes.
Serve hot, sprinkled by some optional chopped parsley, to add color.