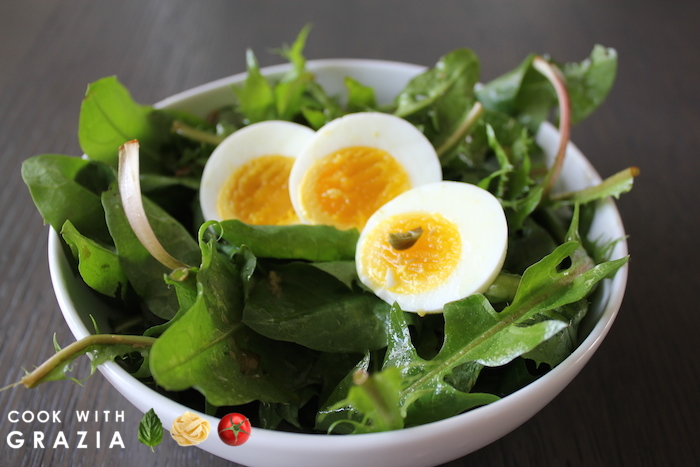 This recipe will hopefully give an answer to my neighbors on what did I do with those wild greens (what is this bizarre woman picking on the sides of the paths???). Well, I was gathering dandelions for this amazing salad!
Dandelions are a very versatile greens, with a well defined, bitter taste, something in between arugula and radicchio. They are a super healthy vegetable, known for centuries for its medicinal and culinary uses (it's botanical name is taraxacum officinale, and officinalis is Latin for pharmaceutical). The plant so ubiquitous I am sure you have seen it many times, and blown on its ephemeral, ball-shaped seeds. My mom particularly love this plant and as a child, I often went with her to pick dandelions to cook with.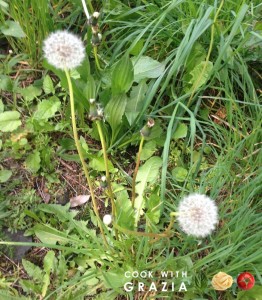 In Italy, where I was born and raised, dandelion goes by several local names, the funniest being "piscialetto," literally wet the bed, since well… this herb is sooo diuretic that you will not be able to sleep through the night!
The dandelion stimulates the liver, increasing the production of bile; therefore, it's a great detoxifier, a wonderful remedy against abdominal bloating and water retention. It can also have a mild laxative effect. Moreover, it's rich in minerals (iron, potassium) and vitamins A, C, K and B. But besides all the wonders of this plant, dandelion is simply delicious.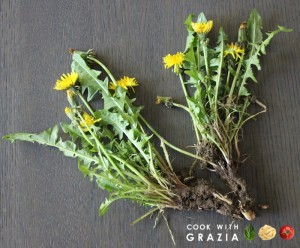 In Italy, we use all parts of this plant: tender spring leaves in salads, larger greens cooked in many ways. You can make jam with the flowers, and during World War II, the roots were roasted and ground to brew a coffee substitute.
In Piedmont, dandelion greens are very often paired with boiled eggs. Here is a very easy and tasty salad recipe for you to try, where the bitter and assertive taste of the dandelion is caper infused and lemon kissed by this simple yet very delectable dressing. Boiled eggs on top add a nutty and buttery flavor.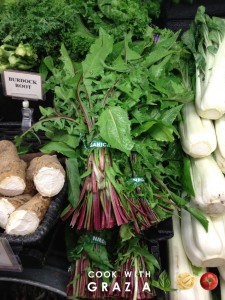 To me it's very exciting to notice that now this greens are appearing more and more in farmers markets and in the produce department of supermarkets. Or – you can also pick your own: it's a wonderful excuse to take a walk with the kids.
Dandelion's taste is quite unique but in case you cannot find them, this appetizing salad idea works well also with arugula or spinach leaves.
Prep and Total time: 15 minutes
Serves 4
Ingredients:

4 eggs
5-6 oz. cleaned dandelion leaves (a bunch of store-bought dandelions, usually 9-10 oz.)
1 Tbsp. capers
5 Tbsp. extra-virgin olive oil
2 tsp. lemon juice
¼ tsp. salt (you may not need if using capers in salt)

Tools:

Saucepan
Chef's knife
Cutting board

Hard boil the eggs.Meanwhile, wash and clean the dandelions. If you use store bought dandelions, remove the hard ends by trimming the last couple of inches (you will easily loose at least 1/3 of the weight). Then slice it crosswise into 1-inch, bite-size pieces.
Rinse the capers well if using capers in salt, or just drain if using capers in vinegar and mince. In a small bowl, mix the minced capers with the oil and lemon juice to create a vinaigrette. Add salt only if you are using capers in vinegar.
Toss in the greens. If you used salted capers, taste and adjust the seasoning. Serve with sliced, still warm hard-boiled eggs, dressed with just a pinch of salt and a few drops of extra-virgin olive oil.