Risotto con gli Asparagi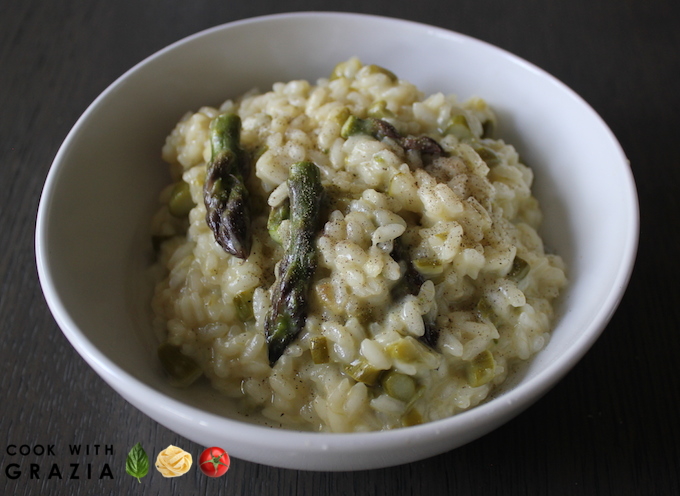 I have tasted hundreds of risottos in the US, and far too many of them are not authentic. So here is the recipe for the real, delicious Italian risotto. This is a great seasonal recipe, one of my favorites, and a terrific Mother's Day brunch idea. This is – hands down – the best recipe for Risotto con gli asparagi – or Asparagus Risotto – you will ever find.
For Italians, risotto is not a side dish, but a main course, deservedly the main attraction in a meal.
As in the case of pasta, risotto is not served overcooked, but al dente. Because of that,it doesn't do well when reheated: it should just be eaten freshly made, immediately out of the pot. Over time, it will lose its texture, if not its flavor, and to some Italians, this is reason enough to make sure there are not any leftovers to reheat!
It's perfectly fine for you to microwave leftover risotto from the night before(I in fact just did that myself!). But in a restaurant, reheated, clogged risotto is just not acceptable. This is why serious restaurants will warn you that if you order risotto it will take at least 20 minutes to prepare. The chef may have the base ready, but he or she will have no time-saving tricks when it comes to cooking the risotto: everyone, professional or not, must cook it at the last minute. As a result, not many restaurants can afford to have this dish on the menu. But you can find out what a real risotto is like – by making this recipe yourself and tasting the difference!
As for the type of rice, Carnaroli and Vialone Nano are the best, but Arborio will work as well. No brown rice for this recipe: risotto is traditionally made with white rice. Using brown rice would be considered an entirely different recipe, not a risotto. Also, some restaurants use parboiled rice, mainly because it doesn't overcook. However, the consistency is rubbery when you bite into it, and I am not keen on it.
One note: Do not rinse the rice before using it in a risotto.
As for the broth, it is best to use a great one, preferably homemade. If you have my app already, you know that it only takes five minutes of active work to make a delicious homemade broth. It really makes a huge difference in the taste of the recipe. You will add it to your risotto gradually, always hot, so that the risotto never stops boiling.
Total time: 35 minutes
Serves 4
Ingredients:
5-6 cups homemade broth
¼ cup extra-virgin olive oil
2 Tbsp. butter
½ onion, small (about 3.5 oz.), chopped
1 lb. asparagus
1 tsp. salt (if broth is not too salty, otherwise skip)
2 cups rice: Carnaroli, Vialone Nano or Arborio
1/3 cup dry white wine
¼ cup heavy cream (optional)
¾ cup Parmigiano-Reggiano
Tools:
2 pots: a heavy bottom stainless-steel 5-quart in which to cook the risotto and another one for the broth.
Chef's knife and cutting board
Wooden spoon
Ladle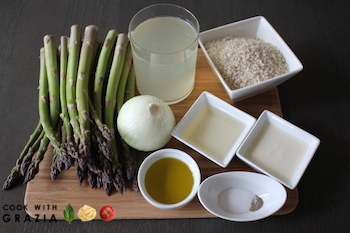 | | |
| --- | --- |
| Pour the broth into a pot and heat so that it will be piping hot when you add it to the rice.Meanwhile, chop the onion.Trim and discard the tough woody stem of the asparagus (usually about an inch). Slice the spears crosswise ¼ inch thick. Leave just the tips intact. |   |
| Place 1 tablespoon of butter and ¼ cup of extra-virgin olive oil into the heavy-bottomed 5-quart pot. Add the onions, and cook over med-high heat for a couple of minutes, until transparent.Add the sliced asparagus (reserve the tips for later use) and 1 teaspoon of salt (taste the broth first: if it is already pretty salty, skip the salt for now). |   |
| Cook, stirring occasionally, for about 8-10 minutes, until the asparagus are soft and slightly golden in color. |   |
| Add the rice and "roast" (in Italian tostare), stirring constantly, for a couple of minutes, until the rice acquires a pale blond color as well. This will seal the rice grains and make them stronger, so they will not break during cooking. |   |
| Add the white wine and stir for one minute, letting it evaporate. |   |
| Add a couple of ladles of broth to the rice, and lower the heat to medium. Add the asparagus tips. From now on, stir every 30 seconds or so. Keep adding broth ladle by ladle, as soon as the liquid is absorbed, slightly covering the rice each time, until the rice is cooked. You will need approximately 5 cups of broth, but it depends on the rice variety, so be prepared to add more or less. |   |
| The broth must be kept piping hot so that the rice maintains a gentle boil. Taste for salt towards the end, and adjust accordingly.Cooking time for the rice will be 14 to 18 minutes, depending on the rice variety used. The final consistency of the risotto should be creamy, silky and smooth (all'onda) — not soupy or clogged. | |
| Turn off the stove and add 1 tablespoon of butter, ¼ cup of Parmigiano-Reggiano and, for a richer and creamier result, ¼ cup of heavy cream. |   |
Rest for one minute and serve, dusted with some optional freshly ground black pepper and more Parmigiano-Reggiano to pass at the table.
Buon Appetito!