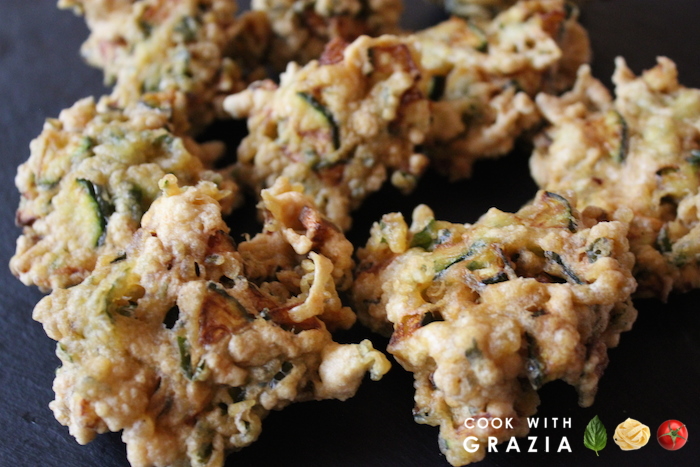 When we make these frittelle… Well, one leads to another and you cannot stop eating them! These zucchini fritters, flavorful and aromatic, make a perfect snack or hors d'oeuvre for a party. As with any deep-fried dish, they are best still warm, but with their intriguing mix of mint, basil and garlic, they are fabulous even at room temperature.
This is a family recipe, one I learned from my grandma, a native of the Apulia region. I've never encountered exactly this dish before, though there are certainly other zucchini fritter recipes out there. Perhaps my grandma just came up with this particular concoction on her own…
Anyhow, here it is. It's very easy to make, it just requires some patience at the stove for the deep-frying.
I deep-fry using extra-virgin olive oil, as I think it adds a delicious taste.
Prep Time: 40 minutes
Total time: 40 minutes
Makes about 15-20 frittelle
​
Ingredients:

1 lb. zucchini (I prefer smaller sized ones, but large ones works too)
1 tsp. salt
1 clove garlic
3 Tbsp. minced parsley
5-6 mint leaves (optional but recommended)
7-8 basil leaves (optional but recommended)
3 eggs
1 cup flour
½ cup Parmigiano-Reggiano cheese
To taste, freshly ground black pepper
Extra-virgin olive oil for deep-frying

Tools:

Chef's knife
Cutting board
1 large bowl
1 sauté pan for deep-frying (stainless steel works best)
Thermometer for candy making and/or deep-frying (it should withstand temperatures up to at least 400 °F)
Paper towels

Chop the zucchini into ¼- to ½-inch pieces. Toss them into the bowl and stir in 1 tsp. of salt. Let sit for 15 minutes, so the zucchini start to release their liquid.
Meanwhile, mince the garlic, the parsley, mint and basil. Set aside.
Pour 1- to 2-inches of extra-virgin olive oil into the sauté pan, and prepare a layer of paper towels on the counter next to the pan, to drain the fritters.After the zucchini has sat for 15 minutes, add the herbs and garlic to the bowl and stir to blend.
Then add the eggs, flour, Parmigiano-Reggiano cheese and some freshly ground black pepper. Mix well to avoid lumps.
The mixture will likely be more creamy…
 
…or less creamy depending on how much water was released by the zucchini.Anyhow, the mixture should not be watery.In the unlikely event that the mixture seems too moist, add more flour as needed.
 
Heat the oil until it reaches 325°F. (If you do not have a thermometer, you can still check the temperature by tossing in a ¼-inch crumb of soft bread. If it fries, rising to the surface surrounded by many bubbles, your oil is sufficiently hot. If the crumb sinks into the oil with just a couple of little bubbles, wait a little.)Using two spoons, and scraping the content of one spoon out with the other, add one or more spoonfuls of the zucchini mix to the hot oil and deep-fry for 5-7 minutes, until deep golden, turning them once halfway through.
To remove from the oil, I use two forks instead of a metal skimmer since I think it drains more efficiently, but feel free to use whatever tool you feel more comfortable with. Drain the fritters on the paper towels. Taste for salt.
To reheat, avoid the microwave. Instead place them in a cold oven, spread out in one layer on a baking sheet. Turn on the oven to 350°F. They will be ready when the oven reaches 350°F.