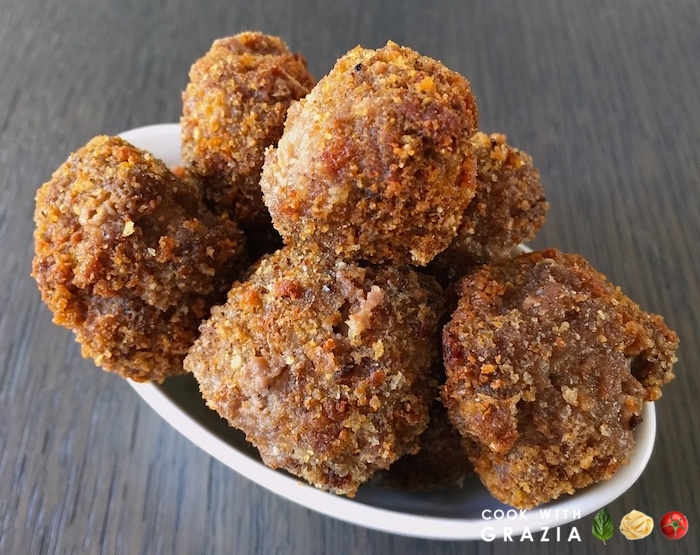 This is probably the meatball recipe I prefer in terms of taste, but I don't cook it very often because of the additional time, calories and mild hassle involved in deep-frying. It's much easier to simply simmer meatballs in tomato sauce, and you know how I love easy recipes!
But, I made it again recently, and my kids were just blown away. These are the meatballs they have been asking for ever since.
Yes, they are awfully good! And to me, that's worth a little extra effort.
This recipe is perfect for a party, potluck or buffet, since these meatballs are delicious even at room temperature and are easy to pick up with fingers or a toothpick and no messy red sauce. They work wonderfully as lunchbox items.
As a side dish, I like them accompanied by a salad or mashed potatoes. If I have extra time, I just cube a few zucchini and potatoes and deep-fry them too, before tossing in the meatballs (meatballs leave sediment in the oil, so you want to cook them last).
And, yes I do deep-fry with extra-virgin olive oil. I use the most basic extra-virgin (usually less expensive), but it works wonderfully for the job. Remember: Extra-virgin=extra yummy!
Serves: 4-6 (yield approx. 40 meatballs)
Prep and Total time: 30 minutes
Ingredients:

2 lbs. ground beef ~ 10-15% fat, fresh from the butcher counter: avoid pre-packaged ground beef, it usually contains too much blood
2 large eggs
1/2 cup Parmigiano-Reggiano cheese, grated
1 Tbsp. parsley, chopped
To taste, freshly ground black pepper
1 tsp. salt
1 cup breadcrumbs (use homemade, avoid boxed Progresso-type!)
Extra-virgin olive oil for deep frying

Tools:

A large bowl
A plate
A 10-inch-wide sauté pan, preferably stainless steel (do not use non-stick surfaces for deep frying)
Paper towels

In a large bowl, mix the ground beef with ½ cup of grated Parmigiano-Reggiano cheese, 2 eggs, 1 tsp. salt, the parsley and a touch of freshly milled black pepper.
 
Using your hands, form golf-sized meatballs (1.5 inches wide).
Spread the breadcrumbs on the plate and roll the meatballs in the breadcrumbs.
Pour 1 inch of extra-virgin olive oil into the skillet and turn on the stove to high.Place a couple of layers of paper towels on on the countertop next to the stove.  If you are not accustomed to deep-frying, use a candy/ deep-fry thermometer (that can read temperatures up to 400-450 degrees) and wait until the temperature reaches 325°F.  You can also check the temperature by tossing in a ¼-inch crumb of soft bread. If it fries, rising to the surface and surrounded by many bubbles, your oil is sufficiently hot. If the crumb sinks in the oil with just a couple of little bubbles, wait a little bit before trying again.Cook the meatballs for 7-9 minutes, turning them periodically for even cooking. If you are using a large sauté pan, you will be able to deep-fry about half of the meatballs at a time.
Using two forks or a small skimmer, remove the meatballs when they have reached a golden-brown color.
Drain them on the paper towels and serve. They will be good even at room temperature.