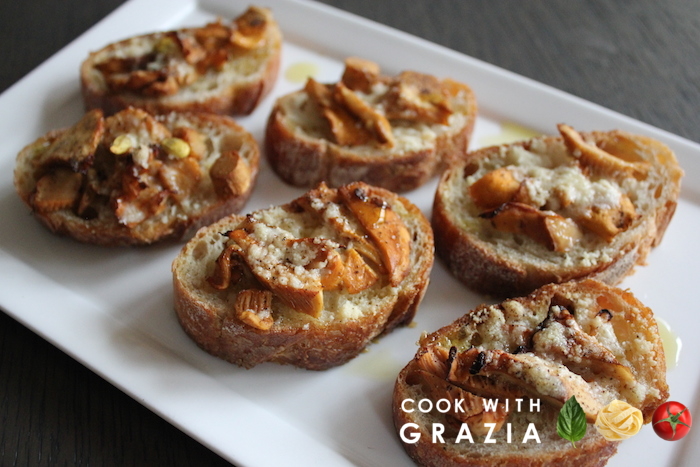 Dull day? All you need is a fireplace, a glass of medium-bodied red wine such as Chianti, Merlot, Pinot Noir, and… These crostini.
Still redolent of the fragrances of woods and fall season, these crispy bites are aromatic, indulgent, with just a touch of tanginess.
My friend Cinzia gave me this recipe (grazie Cinzia!), which she received from a friend who enjoys long walks in the forest nearby Parma to pick porcini – and came up with this wonderful recipe.
If you have fresh mushrooms (porcini or chanterelles) in your hands do not hesitate: these canapés are literally ready in minutes and are fantastic eaten right away, still warm, straight from the oven.
Active time: 10 minutes
Total time: 20 minutes
Serves 4-8
Ingredients:

5-6 oz. fresh mushrooms (I prefer porcini, or chanterelles)
16 bread slices from a baguette, 1/2-inch thick (approx. 6 oz.)
1/4 cup extra virgin olive oil
1/4 cup Parmigiano-Reggiano cheese, finely grated
¼ tsp. salt
Fresh ground pepper
Half a lemon

Tools:

One large baking sheet
Aluminum foil or parchment paper
Chef's knife
Cutting board

Heat the oven to 400°F. Cover a large baking sheet with aluminum foil or parchment paper. Arrange the bread slices on top of the baking sheet.
 
Roughly cut the mushrooms and scatter them on top of the bread slices. Sprinkle with extra-virgin olive oil and season with salt and pepper.
 
Add ½ tsp. of Parmigiano-Reggiano cheese on top of each crostini.
 
Bake for 10 minutes at 400°F, until the cheese will have melted and the bread have reached a golden color.
 
Out of the oven, add just 4 drops of lemon juice on top of each crostini before serving.
Buon Appetito!