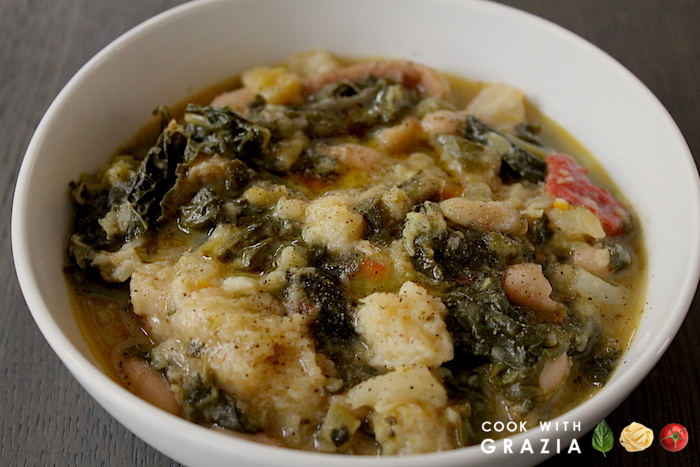 Have you been hit hard by the recent cold weather?
Make yourself a bowl of Ribollita, one of my favorite soups.
Hearty and herbaceous, loaded with leafy green vegetables, Ribollita is also very satisfying: beans, potatoes and bread provide an almost creamy texture. Not to mention the addition of thyme, which delivers an aromatic twist.
I love this dish so much that I always order it when I am in Tuscany — even if it's high summer and 100 degrees outside!
Ribollita is now a staple at our house, especially after I signed up for a CSA. I get my weekly box delivered and it's always full of… kale!!! Perfect for this very special soup.
I started making this recipe regularly after I met food writer Paolo Petroni in Milano in 2003. It was an extremely hot summer, and I was attending the Accademia Italiana della Cucina conference. Paolo is a true Tuscan, Secretary General of the Accademia and President of the Accademia's Centro Studi. He is also a wonderful writer. He gave me his autographed "il libro della vera cucina fiorentina" or "Book of the True Florentine Cooking," which of course includes the most authentic recipe for Ribollita. So authentic that is has been notarized in 2001 by the Accademia itself!
Ribollita in Italian means re-boiled, and simply refers to a leftover vegetable soup, mixed with stale bread and then reheated. It was a traditional staple in the Tuscan countryside and was often consumed, as Paolo explains in his book, even at breakfast!
His recipe, which I am translating and adapting for you, is more like a guideline since the soup has been traditionally cooked with pretty much whatever was available from the vegetable garden.
But if you want to achieve an authentic flavor, as Paolo points out, there are a few boundaries for your creativity.
1: No canned beans! Cook previously soaked beans, or, even better – as Paolo explains – cook the dried beans without soaking them: "slowly."
How to properly cook dried beans (in this specific recipe: cannellini beans)? Start by putting the dried beans in salted, cold water – about five times as much water as beans by weight. Now heat the beans to a gentle simmer – keep the beans at a simmer, never a hard boil. It's a cooking method – as Paolo explains – for people who are not in a rush. The time of cooking really varies on the bean variety and there is no better method than… tasting. But in my experience, cannellini beans usually take way more than an hour – and possibly over three hours.
Since cooking the beans takes so long, I usually cook the beans the first day (maybe in the evening, while doing other stuff) and then prepare the soup the next day, which I then serve on the third day (!).
2- The soup needs to be reheated – on the stove, no microwave!!! You can of course enjoy same-day soup, but the taste will be at its peak the following day.
3- Do not load on tomatoes! The soup should not be bright red.
4- Do not load on oil! Use just the recommended extra-virgin olive oil for cooking, and instead add a drizzle of excellent extra-virgin olive oil at the end  "a crudo", as a finishing touch when serving.
5- Try to keep the same proportion of vegetables to bread.
6- Choose whole wheat, rustic bread, if you can.
7- One more must-do that I wish to add for you, my American friends: lacinato kale is mandatory, and the ingredient that characterize the recipe. Other kinds of kale are also welcome, but lacinato kale (cavolo nero) should always be present for an authentic taste.
Prep time: 30 minutes
Total time: 1 hour and 30 minutes (5 hours if you include cooking time for the beans, Paolo's way)
Serves 6 people
Ingredients:

½ lb. dried cannellini beans (1 1/3 cups)
1/3 cup extra-virgin olive oil
½ onion
1 carrot
1 celery stalk
1 garlic clove
2-3 thyme sprigs (leaves only)
1 tsp. Salt
1 potato, medium sized
½ lb. lacinato kale (roughly a bunch)
½ head Savoy cabbage (about ¾ lb.)
1/3 lb. Swiss chard
1 Tbsp. tomato paste or 1/3 cup of canned diced tomatoes or 1 fresh tomato
½ lb. whole wheat, rustic, stale bread (brown paesano or pain de champagne or country brown, but a rustic white such as sourdough would also work)
To taste, freshly ground black pepper

Tools:

3-quart pot
Chef's knife
Cutting board
Blender or food processor
Large pot (5- to 8-quart) with lid: Paolo suggests using a clay cooking pot; I use a stainless steel with thick multilayered aluminum core bottom. I prefer non-stick when possible since it's more forgiving with the soffritto (I am a distracted cook!).
Wooden spoon

Place the (unsoaked!) dried beans in the smaller pot with 4 cups of cold water and just ½ teaspoon of salt. Turn on the heat to medium and bring to a gentle boil, then turn down the heat to the lowest setting and cover with a lid. Keep simmering until cooked (between 3- and 3 ½ hours in my experience). Otherwise use soaked beans and cook them in the same amount of water, until done (cooking time will be quicker). Again, do not use canned beans!!!
 
Meanwhile, chop the carrot, onion, and celery. Mince the garlic.Peel and dice the potatoes, clean and cut the remaining vegetables into ½-inch slices or cubes. Set aside.

When the beans are cooked, drain them, reserving the cooking water. In a blender or food processor, puree about ¾ of the beans and return the bean purée to the cooking water. Set aside. Also set aside the remaining whole beans.

 
In a large pot, prepare the soffritto: heat 1/3 cup extra-virgin olive oil, and sauté the carrot, celery, garlic and onion over medium-high heat, until golden in color, about 7-8 minutes. Stir often to avoid burning.
Add the thyme leaves, the remaining 1/2 tsp. of salt, the remaining fresh vegetables, the tomato paste, the bean purée with its water, along with an additional 4 cups of water.Cook over low heat, covered, for about 1 hour.
Finally, add the previously cooked whole beans and the stale bread, cut into ½-inch slices, crust on. Stir, cook for another 5 minutes and turn off the heat.
 
Let soup sit for at least a few hours, ideally overnight. Then, reheat the soup, boiling for a few minutes at low heat.
 
Serve sprinkled with freshly ground black pepper and drizzled with a little high-quality extra-virgin olive oil.This soup is traditionally served without Parmigiano-Reggiano cheese.