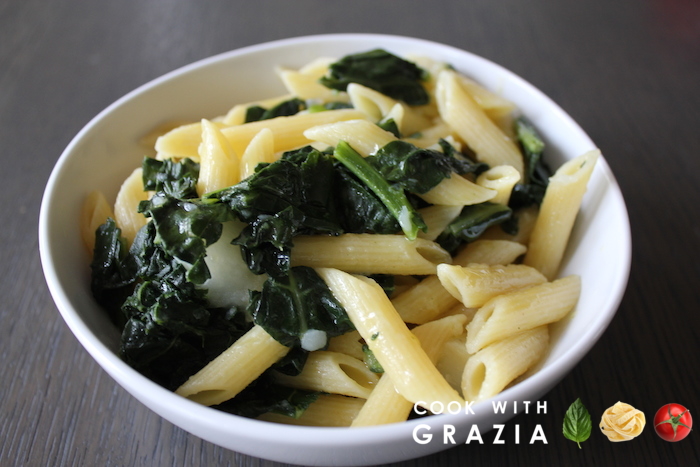 A dear friend of mine (ciao Zikki!) from La Spezia gave me this very quick and delicious recipe some time ago.
It is a great dish to enhance the taste of newly pressed extra virgin olive oil, and it should be cooked only if you have some olio nuovo of the best quality in your hands (check here how to buy great Extra Virgin Olive Oil).
Smartly it only requires just a couple of ingredients widely available in late fall to early spring, exactly when the new extra-virgin arrives: lacinato kale and potatoes. if you – like me – have a CSA subscription you know what I mean (#submergedbykale!!!)
It is not an assertive recipe: it is actually a gentle, smooth one that allows you to spotlight the olio nuovo in all its power.
No cheese in this dish!!! You will then really be able to savor any of the oil characteristics: from spicy and pungent with notes reminiscent of artichokes, grass, tomato or fig leaves, almond, butter – depending on the oil variety you are using!
Happy tasting…
Total time: 20 minutes
Serves 4 people
Ingredients:

2 medium potatoes (I like white), approx. 1 lb.
10-12 oz. Lacinato kale (usually 2 bunches)
1 box (usually 1 lb.) dry semolina pasta – any short kind
½ cup olio nuovo: freshly pressed extra-virgin olive oil
1/4 tsp. salt – plus more for the pot of water

Tools:

One large pot for boiling the pasta
One colader
Chefs knife and a cutting board

Bring a large pot of salted water to a boil. Meanwhile peel and dice the potato into ¾-inch cubes. Clean the kale and cut in 1-inch length.
When the water is boiling, toss the vegetables into the pot.
 
 Wait a couple of minutes for the water to return to a full, rolling boil. If your pasta cooks in approximately 10 minutes, then add the pasta to the pot.
 
Otherwise do the math and add the pasta a little bit later – allowing the vegetable to cook for at least 10 minutes.
 
 Drain the pasta and the vegetables and toss into a serving bowl (or return to the pot).Mix with salt and extra-virgin olive oil. Add some cooking water if it seems to dry (you would likely need about half a cup of the saved water).The potatoes will be really soft, creating an almost velvety sauce.
 
Serve still hot. No Parmigiano- Reggiano or pecorino cheese this time, or you will cover the wonderful flavors of your olio nuovo.