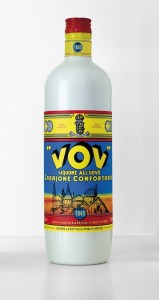 If you have been to Italy you have probably tasted or heard of Vov: a luscious, velvety, creamy liquor. What you may not be aware of is that it's truly easy to make, and its homemade version is at least as good as the bottled one, still unavailable in the US. 
It only takes 15 minutes to prepare, and you will immediately fall in love, the same way Italians did when it was launched, back in 1845.
It makes a wonderful comforting drink for the cold weather, and an unexpected and exclusive gift for family and friends. It is also still unreleased: Molinari, the Italian company, is planning to start selling Vov in the US in 2015.
Here is the recipe and full story.