Castagnole di Carnevale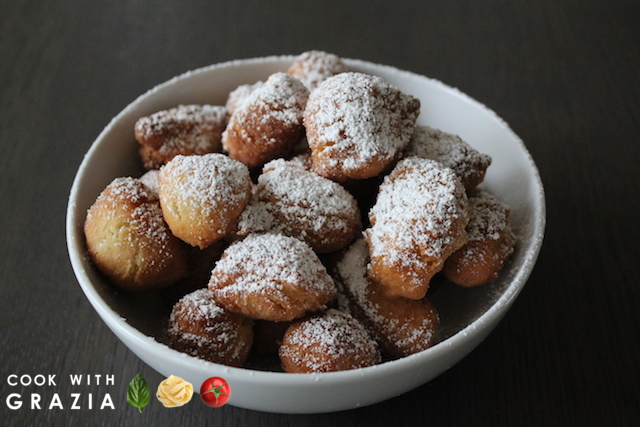 Ahhh… Carnevale! It breaks winter grays into an explosion of color and amusement. Who doesn't love wearing costumes, going to parades with festooned floats and… eating special treats? These traditional deep-fried sweets are usually not available during the rest of the year so they must be enjoyed while they last.
Here is the recipe for one of my favorite: castagnole. They are widely enjoyed in northern and central Italy and their name derives from castagne, or chestnuts, because they are pretty much the size of a chestnut.
It's a very quick and rewarding preparation, and that is why I especially love it.
Total time: 45 minutes




Serves 8-10 people. Yield: about 75 castagnole.

Ingredients:

4 Tbsp. Butter
1 Tbsp. Extra-Virgin Olive Oil
1 Tbsp. Rum
¼ cup Milk
2  large Eggs
½ cup Sugar
2 ½ cups all-purpose Flour
1 tsp. Baking Powder (I used Clabber Girl)
Grated peel from 1 Lemon
Olive oil for deep-frying (about 2 cups if you are using a 1.5 or 2- quart saucepan)

Tools:

Large microwave-safe prep bowl
Spoon
Small knife
1.5 or 2-quart heavy bottom, stainless steel saucepan.
Paper towel
Deep-fry thermometer (optional)
Small skimmer (or just two forks)

1- Microwave the butter in a large prep bowl to liquify.
2- Add all the other ingredients (except for the olive oil for deep frying), reserving about ¼ cup of flour for later use.
3- Mix the ingredients using a spoon and then just with your hands, until the dough is smooth.
 
4- Turn the dough out onto a lightly floured flat surface. Lightly knead and add a little more flour if the dough is overly sticky (but it shouldn't be).Roll the dough into 1-inch thick logs and then cut into 1-inch pieces.
5- Pour the olive oil into the saucepan and turn on the heat. It should be about 1 inch deep.  Place a couple of layers of paper towels on a flat surface next to the stove.  If you are not accustomed to to deep frying, use a thermometer and wait until the temperature reaches 350°F.  Cook 7-9 pieces at a time, turning them periodically for even results. I usually deep-fry castagnole at an average temperature of 345°F (not too hot), so that the inside cooks evenly as well.
 
6- Using two forks or a small skimmer, remove the castagnole when they have reached a golden-brown color. Drain them on the paper towels.
7- Let them cool completely. Dust with plenty of confectioner's sugar before serving.Buon appetito!