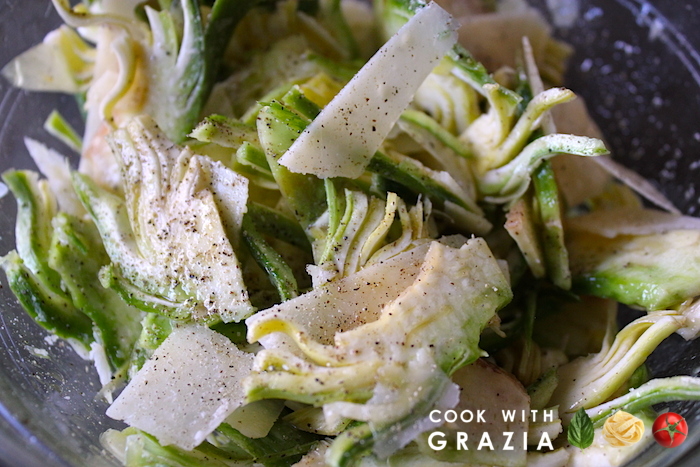 Fresh raw artichoke hearts are a wonderful addition to any salad, and the one with Parmigiano-Reggiano is the most classic Italian combination, one that you would find on many restaurant menus in Italy around this time of the year. The crunchiness of the raw artichokes blend divinely with the mellow, deep taste of Parmigiano-Reggiano cheese.
Just try it — and you will fall in love with this traditional, super easy Italian appetizer.
This salad is also easy to make, once you have mastered how to clean an artichoke. The main trick is to drop the cut artichokes immediately into lemon-infused water. Raw artichoke hearts darken very easily, so they need some TLC to remain light and keep their visual appeal.
This recipe is going to be part of my recipe app.
Prep time: 15 minutes
Total time: 15 minutes
Serves 4
Ingredients:

1 lemon
3-4 oz. Parmigiano-Reggiano cheese, shaved (one very full cup)
4 Tbsp. extra-virgin olive oil
Salt and freshly ground pepper, to taste
2 artichokes, large (approx. 1 lb. each)

Tools:

Large bowl
Small bowl
Chef's knife
Paring knife
Cutting board
Mandolin or potato peeler
Serving bowl

Halve the lemon, and squeeze half of it into a large bowl half filled with fresh water. Drop in the lemon peel as well.Using the remaining half lemon, squeeze 2 tablespoons of lemon juice into a small bowl together with the extra-virgin olive oil and ¼ teaspoon salt. Stir with a fork to make a vinaigrette and set aside.
Using the mandolin set at 1.3 or 2 (medium setting), shave the Parmigiano-Reggiano cheese. If you don't have a mandolin, a potato peeler will also work just fine. Set aside.
Clean both artichokes as explained here, keeping them halved. Immediately drop the artichoke hearts into the lemon water to avoid oxidation.When you are ready to slice the artichoke, quickly drain and pat the hearts just seconds before slicing them. To slice, set the mandolin at 3, Or, if using a chef's knife, slice the artichokes very thinly, about 1/8- inch thick.
 
Immediately toss the slices in the serving bowl and add the previously prepared vinaigrette.
 
 Add the shaved Parmigiano and toss again, adding freshly ground black pepper to taste.