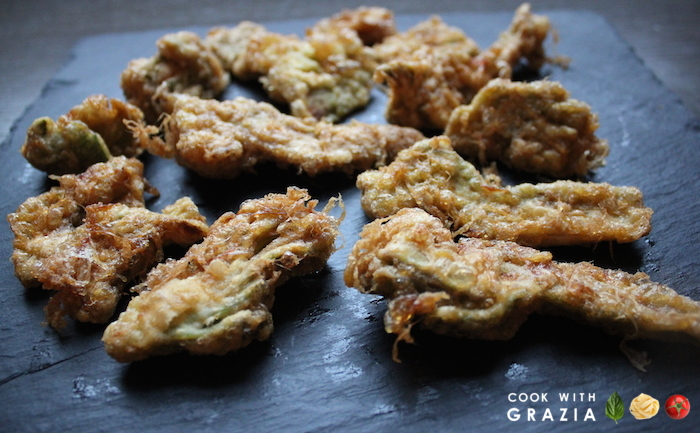 Deep-fried artichokes are a true classic from central and southern Italy. This dish totally brings me back to my grandma's kitchen. I close my eyes, and I can still see her at the stove, making these delicious treats for large family gatherings. Everyone loved them so much that we would hover in the kitchen and eat them right there: carciofi fritti rarely made it to the table. So there is a piece of my childhood in every bite.
This recipe uses extra-virgin olive oil for deep-frying, as is traditional in the south of Italy. It confers a characteristic, fruity taste. Despite all the controversy around smoking points, I still think that olive oil and extra-virgin olive oil give the best taste to deep-fried foods, and, in my opinion, it's also easiest on the stomach. Don't use your best extra-virgin (dop for example). A regular, not very expensive extra-virgin will definitely do a wonderful job for deep frying.
I always use extra-virgin oil for deep-frying vegetables, especially if they do not need a very high temperature, as in this case. I usually prefer regular olive oil to deep-fry sweets or smaller items that need higher temperatures.
Prep time: 50 minutes
Total time: 50 minutes
Yield: appetizer for 4 or snack for 8 people
Ingredients:

4 large artichokes (about 1 lb. each)
3 eggs
½ tsp. salt (plus more to sprinkle on at the end if needed)
To taste, freshly ground black pepper, optional
¾ cup flour
Extra-virgin olive oil for deep-frying

Tools:

Chef's knife
Cutting board
1 shallow plate
1 soup plate or small bowl
1 sauté pan for deep-frying (stainless steel works best)
Paper towel
Serving dish

Clean the artichokes following these directions.Set up your working stations:

Spread the flour in the shallow plate. Set aside.
Break the eggs into the shallow bowl and whisk together with the salt and optional pepper. Set aside.
Pour 1- to 2-inches of extra-virgin olive oil into the sauté pan, and place several paper towel sheets on the counter next to the pan, to drain the fritters.

 
Drain the artichokes , which have been soaking in the lemon water, pat dry and cut into ¼- to ½-inch-thick slices. Cut the tender part of the stems into ¼-inch slices.
 
Heat the extra-virgin olive oil in the sauté pan to 325°F. (If you do not have a thermometer, you can still check your temperature by tossing a ¼-inch soft crumb of bread. If it fries, pushing to the surface with many bubbles developing around it, your oil is sufficiently hot and you can start using it. If the crumb sinks into the oil with just a couple of little bubbles, wait a little until the oil is hotter.)
While the oil is heating up, coat each artichoke slice with some flour, and tap to remove any excess.
 
Now coat the same slices with a thin layer of egg mixture.
 
 Deep-fry the artichokes until deep golden in color, for about 5-7 minutes, turning them once halfway
 
To remove the deep-fried pieces, I use two forks instead of a metal skimmer since I think it drains more efficiently, but feel free to use whatever tool you feel most comfortable with. Drain the artichokes on the paper towels as soon as you remove them from the oil. Taste for salt and sprinkle with some, in case you like more.
Enjoy still warm if you can, as they are at their best (any deep fried items is!), but they will be fantastic even when cooled.You can also prepare in advance and re-heat right before serving on the oven: place them in one layer in a baking pan in the oven still cold. Turn on at 350°F.They will be ready when the oven reaches 350°F. (A microwave would also work but the crispiness will definitely be lost.)