Fettuccine Alfredo – the Recipe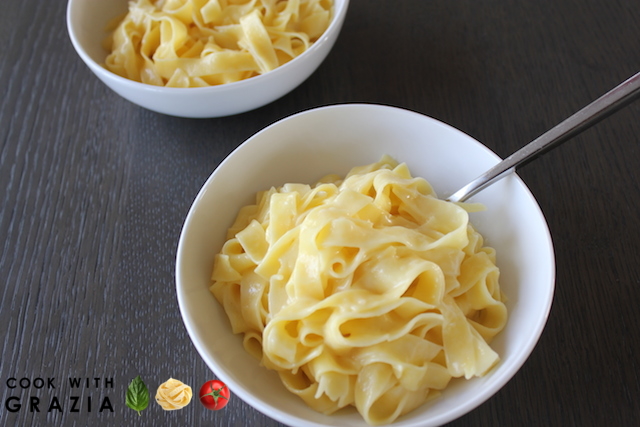 on-the-ground research – here it is for you – the real, authentic fettuccine with Alfredo sauce recipe!
Grazia's recipe for Fettuccine Alfredo
Total Time: 20 minutes
Yields 4
INGREDIENTS:

1 1/3 cups finely grated Parmigiano-Reggiano cheese (about 5.3 oz., preferably aged 24 months)
1 stick (8 Tbsp.) butter (unsalted)
12 oz. dry Tagliatelle or fettuccine (or, even better, fresh and very thin fettuccine for four people)
1 ½ cups reserved pasta cooking water
Salt to taste

TOOLS:

5-quart pot
Large plastic colander
Large bowl
Small microwave-safe bowl
Large spoon and fork for tossing

In a large pot, bring 12 cups of water to a boil together with 1 1/2 Tbsp. of coarse salt. Keep the large bowl next to the boiling pot, to warm, or, even better, on top of the pot.

Meanwhile, finely grate the Parmigiano-Reggiano cheese.

Cut the stick of butter into chunks and microwave for about a minute, to soften, and throw 1/2 of the butter into the warmed bowl. Reserve the rest.

Cook the tagliatelle or fettuccine in the large pot of boiling salted water, stirring occasionally, until tender but still al dente, or firm to the bite.
Drain the pasta, reserving 1 1/2 cups of the cooking water. Toss the pasta into the previously warmed bowl, on top of the softened butter.

Add ½ dose of Parmigiano, and ½ cup of the cooking water and then toss very vigorously using a large fork and spoon.

When the cheese has melted completely, add the remaining 4 Tbsp. of softened butter, the remaining ½ dose of cheese, and another ½ cup of the reserved cooking water. Keep stirring and tossing!Season to taste and keep tossing. I do not use any salt, but your taste may be different.
Keep tossing for at least a total of 5 minutes, until a creamy sauce forms, adding another 1/4 cup of the cooking water. Keep adding more if it seems too dry (you will have another 1/4 cup left).
Stir and toss, stir and toss…
Once the Alfredo sauce is luscious and creamy, serve immediately.Buon appetito!!!