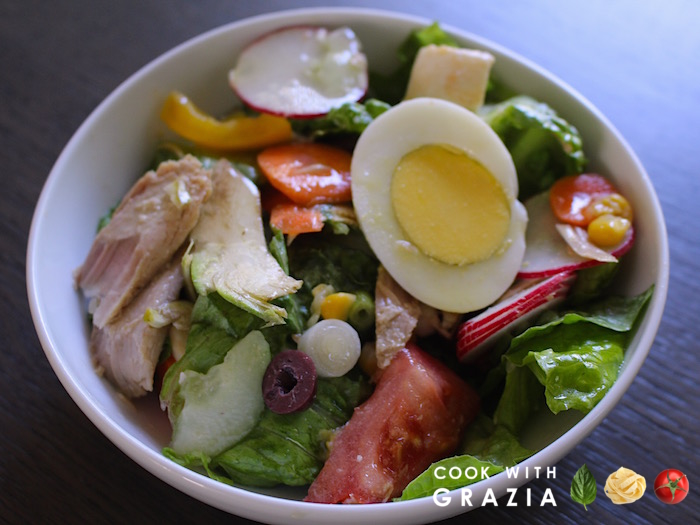 This insalatone, literally a large salad, is something that you would find on pretty much every cafe lunch menu on the Italian peninsula.
It's something that Italians adore: an easy, light and healthy way to take care of your midday meal.
When summer arrives, I feel the need for a fresh plate, and this is just perfect. I love the crunchiness of the mixed vegetables and their contrasting flavors. The added protein makes it a complete meal. Plus, it's very colorful, a truly beautiful and appetizing dish.
This recipe is more like a guide than a set recipe.
The base should be fresh greens and tomatoes, plus olives, mozzarella, tuna and boiled eggs. You can then add ingredients as you like. This combination is just a suggestion, to give you a few ideas, but I also love adding fennel, celery, champignon (button, crimini) mushrooms and previously cooked beans of any kind, which I didn't have on hand when I shot these photos.
Small-sized zucchini are also a sweet and lovely addition when super fresh, but they acquire a bitter taste if stored for a few days.
The insalatone should be served with fresh, good quality bread.
Serves 4 (main)
Total time: 18-25 minutes (depending on how many vegetables you use)
Ingredients:

½ bunch salad greens (about 8-10 oz. Plan on using the full bunch is you do not have many "extra" vegetables)
1 medium tomato (about 8-10 oz. – more in case you are using only tomatoes and salad greens)
2 carrots (about 5 oz.)
1 small cucumber (or ½ large one)
1 small artichoke (or ½ large one)
½ bell pepper (any color)
5-6 radishes
5-6 oz. of spring onions or scallions
2 cans tuna (I prefer in olive oil, drained, about 5 oz. each)
2 mozzarella balls (about 8 oz.)
A dozen olives (usually black, but green work too)
1/3 cup corn (from a can)
¼ cup extra-virgin olive oil
2 Tbsp. wine vinegar (I like red, but you can use white vinegar, or IGP balsamic vinegar, or even lemon juice)
½ tsp. salt
4 boiled eggs

Tools:

One small saucepan
Salad spinner
Chef's knife
Cutting board
Salad bowl
Mandoline

 Place the eggs in a small saucepan with tap water and bring to a boil. Cook for about 7 minutes, then run under cold water to cool.
Meanwhile, wash and clean the salad greens and all the other vegetables. Clean the artichoke as explained here. Cut the vegetables in bite-sized pieces.
 
If you have a mandoline, use it to slice the artichokes, radishes and carrots. Otherwise just make sure to slice them really thin, especially the artichoke!
 
Toss all the vegetables into the serving bowl together with the salad greens, cut into bite-sized pieces.
 
Pit and slice the olives; cube the mozzarella cheese.Peel and slice the boiled eggs.Add the drained tuna, olives, corn, mozzarella cheese to the salad bowl.
 
Pour over the salt, the vinegar and the extra-virgin olive oil.Toss well.
 
As a finishing touch, top with the sliced eggs.