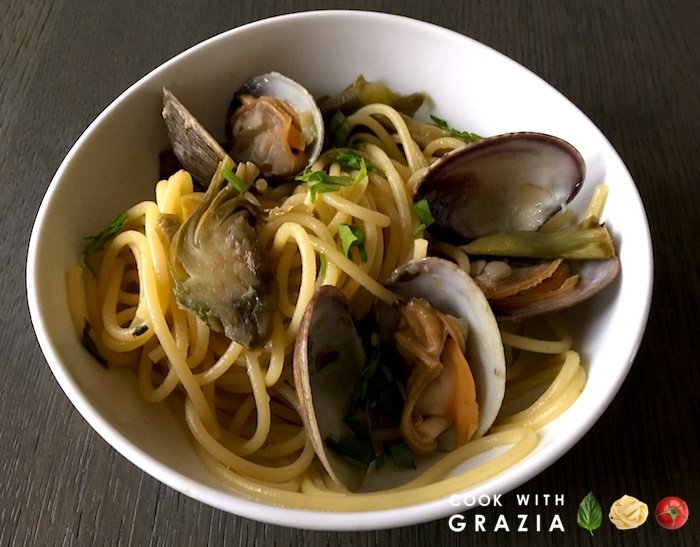 This pasta is incredibly yummy and rewarding, with an interesting sweet, nutty taste. The combination may seem unusual to many, but artichokes are widely used in Italy and are very common in pasta dishes.
In pasta, artichokes are often paired with shellfish or bottarga, a salted-cured roe of tuna or mullet, a food specialty original from Sardinia – a rare find in the US.
This dish is quite easy to make once you have mastered how to clean an artichoke. As an alternative, you can use frozen artichoke hearts, although I still prefer to use fresh produce, especially when in season.
Also, don't forget to soak the clams for at least two hours in cold, salted water. Leave the clams undisturbed and they will slightly open and release any sand that may still be trapped in their valves. Drain them thoroughly and rinse before adding them to the pan.
Prep time: 28 minutes if using frozen artichokes, 38 if using fresh
Total time: 38 minutes if using fresh artichokes, 28 minutes if using frozen (plus two hours to pre-soak the clams – keep them refrigerated if you live in a hot climate)
Serves 4
Ingredients:

1 lb. long pasta (spaghetti or linguine)
½ cup extra-virgin olive oil
3 Tbsp. minced parsley
1 clove garlic
2 large artichokes (about 1 lb. each. Or two boxes 8-oz. frozen artichoke hearts)
1 tsp. salt
2 lbs. fresh, living clams clams, Littleneck or Manila, previously soaked, undisturbed, in cold salted water for at least a couple of hours (this is needed to eliminate the residual sand in the clams)
1/3 cup white wine

Tools:

Large pot for cooking pasta and colander
Paring knife
Chef's knife
Cutting board
12-inch sauté pan or skillet

Bring a large pot of salted water to a boil. Calculate the pasta timing (cook the pasta very al dente): time it to be ready at the same time as the sauce. The sauce will take 28 minutes if using frozen artichokes, about 38 minutes if using fresh (calculating 10 minutes or less to clean the artichokes).Meanwhile, chop the garlic and parsley.Clean the artichokes as explained here. Then slice the artichoke hearts ¼- to ½-inch thick. Or, if you are using frozen ones, just open the boxes.
In a large skillet over medium heat, add the extra-virgin olive oil, minced garlic, 1 tablespoon of minced parsley, the sliced artichoke hearts, and 1 teaspoon of salt.
Sauté at medium-high heat for a couple of minutes and then lower the heat. Keep cooking at medium-low heat for another 13-14 minutes, covered, until the artichokes are cooked through and can be pricked with a fork. If you are using frozen artichokes, try to cut them into smaller pieces with a wooden spoon.
Raise the heat, toss in the clams and cook for a couple of minutes, until the clams start to open.
Add the wine and cook for another 4-5 minutes, until the clams have all opened. (Discard any unopened clams.)
Now the pasta should be ready. Drain it when it is al dente, reserving one cup of the pasta water.Immediately toss the pasta into the skillet with the clams. You will likely need to add ¼ cup of the reserved water if the sauce seems too dry.
Cook and toss for one or two minutes in order for the ingredients to properly blend, adding more water if it seems too dry.Serve sprinkled with the remaining parsley.