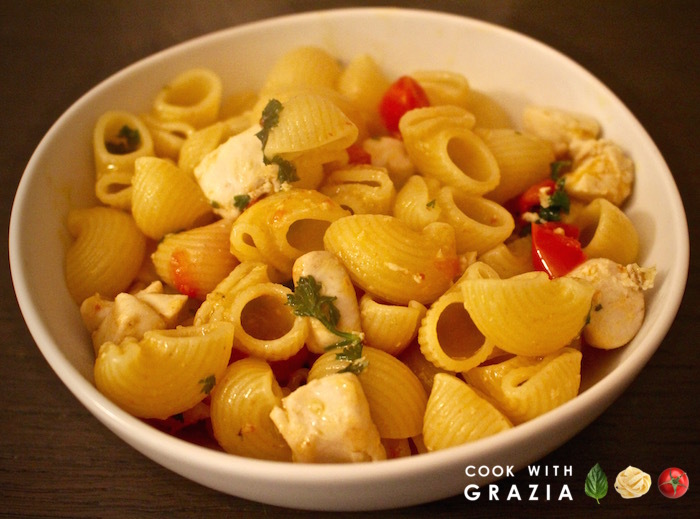 This is my Halloween recipe for you, the ultimate… food porn (!), and as I like to joke to my friends, my personal warning to the entire male population  😛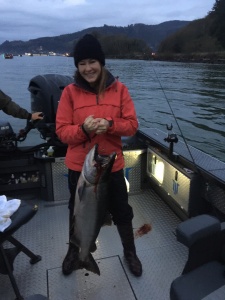 I recently went fishing on the Oregon coast and caught a pretty big Pacific Salmon.
Since I like to think that "if you must kill it – then eat it all!", I was ready to cook every single bit of it. I would have been ready to make bottarga, but since it was a boy… well, why not try this recipe instead?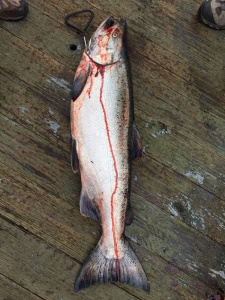 You may think this as a horrid creation of mine, but it isn't: believe it or not, this is a traditional Italian recipe that comes from Sicily (Sardinia also has a very similar one).
This pasta recipe is usually prepared with sperm sacs (locally called lattume, or figatello in Sardinia) of local big fish species, usually tuna, which are of a deeper taste than salmon ones.
I made this recipe the other night for my kids and they loved it (well, they didn't know what it was until after dinner). The taste of the lattume is really delicate, sweet, and overall this is a recipe totally worth trying.
For those of you who have experienced it, it's similar to the taste of a slightly fishy version of veal brain (which is another Italian delicacy still in the Halloween spirit!).
Prep time: 20 minutes
Total time: 20 minutes
Serves 4
Ingredients:

1 box of pasta, any short kind

½ lb. to 1 lb. of sperm sacs (whatever is available) of any large fish (mine was salmon)

1/3 cup extra-virgin olive oil

1 Garlic clove

To taste – Hot chili pepper flakes (optional, or freshly ground black pepper)

1 tbsp. minced parsley

¼ cup white wine

½ tsp. salt

A handful of cherry tomatoes (optional)

Tools:

Large pot

Chef's knife

Cutting board

Ginger grater (optional)

1 very large skillet or sauté pan with lid

Colander

Cook the pasta in a large pot of salted boiling water, stirring occasionally until al dente. Time the pasta to be ready in about 15 minutes.

Meanwhile, remove and toss the darker filaments on the upper and lower end of the sperm sacs, and cut the sacs into ½-inch cubes.

Mince or grate the garlic clove, mince the parsley, cut the tomatoes in quarters.

Set everything aside.

Heat the olive oil in a large skillet and add the garlic, the parsley and the (optional) chili pepper flakes.

Cook for a couple of minutes at low heat while stirring just to blend the flavors, be careful to avoid burning the garlic.

Add the cubed sperm sacs, raise the heat to medium-high and cook for about 3-4 minutes, stirring occasionally.

Add the wine and evaporate, stirring occasionally. Add the tomatoes, if using, and cook for another 4-5 minutes.

Drain the pasta very al dente, reserving one cup of the cooking water.

Toss the pasta into the large skillet with the sauce and stir over low heat. Keep cooking for another minute or two to meld the flavors, adding some of the cooking water if it seems dry.

Serve hot, sprinkled with more parsley and optional freshly ground black pepper (if you didn't use the chili flakes).