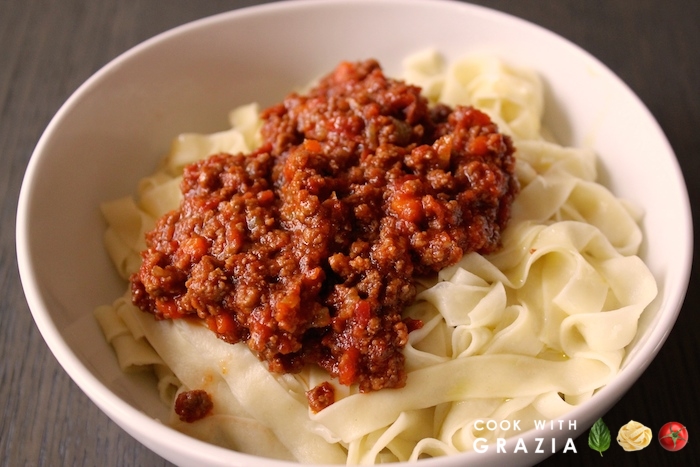 It is impossible, and foolhardy, to declare: "I have the definitive ragù di carne."
A thousand voices will respond that, no, they have the best or the most authentic meat sauce recipe. Every family in Italy has its own concoction, and – to be sure! – it is The Best.
My family is no different: the most delicious ragù di carne has always been on our table 😛
As a kid, I remember even my dad (not the best cook in the house) sometimes preparing it.
Even within our family there were variations:
my mom, for example, used her own special spices —   clove, laurel, juniper, myrtle berries, and a touch of nutmeg. My grandma, on the other hand, added chicken liver and giblets leftover from when she slaughtered her own homegrown hens. I remember not liking this version, but I am sure that as an adult I would appreciate it much more! I've only learned much later that this is actually typical in some regions of Italy, such as Emilia-Romagna…
My friend Gino warmly advised me to try ragù with a mix of ground beef and pork, the way many do in Emilia Romagna. Others in the same region like to add some chopped pancetta, or shredded fresh sausage. In Bologna, cooks usually add milk to the pot. Many add tomato paste, as do I, when my canned tomatoes seem too watery.
In Piedmont, I have friends that like to use ground veal, and in the Umbria region they enjoy lamb instead of beef, adding a touch of rosemary to the mix.
In the north of Italy, we prefer a thick, meaty sauce that marries well with our hand-made egg pasta. In Rome, people like more tomatoes and less meat. In Naples, they call ragù a tomato sauce simmering for many hours with large pieces of meat, that are at the end removed and consumed separately, as main course (some name this ragù finto, or fake ragù).
As you can see, there is room for everyone and every taste…
This is my version  — kind of traditional for the North of Italy, and… The best of all, of course 😛
It has a clean, sweet taste, mellow and rich without being heavy, and is a good basic recipe for use in lasagna and cannelloni.
I choose lean ground beef and no pork because I like a lighter sauce.
One caveat: it does take two hours to cook. But the good news is you can divide the ragù into portions and freeze it. You will then have a sauce ready for a last-minute yet super yummy pasta!
Prep time: 30 minutesTotal time: 2 hours (or more!)

Makes enough for roughly 5 boxes of pasta

Ingredients:

½ stick butter
¼ cup Extra-Virgin Olive Oil
½ large onion, approx. 5-6 oz.
1 clove of garlic (totally optional, I use it rarely)
1 large carrot, approx. 5 oz.
1 large celery stick, approx. 5 oz.
2 lb. ground beef, 10% fat content
½ cup wine, dry (white or red)
1 large can of tomatoes (usually 28 oz.)
1 Tbsp. tomato paste (if canned tomatoes are watery, optional)
2 tsp. salt

Tools:

Chef's knife
Cutting board
1 large pot
1 wooden spoon

Using a chef's knife on a cutting board, chop the onion and optional garlic first, followed by the carrot and celery.  Prepare the soffritto: Melt the butter with the extra-virgin olive oil and 1 tsp. salt in a large pot over medium-high heat. Add the chopped onion and sauté for 3-4 minutes before adding the remaining chopped vegetables. Keep stirring to avoid burning.Continue cooking for another 10 minutes, stirring constantly, until the vegetables acquire a nice golden color.
 
Add the ground beef and another 1 tsp. of salt, using the spoon to break up the beef into small curds.
 
Continue cooking at medium-high for 15-20 minutes, stirring occasionally, until all the meat juices evaporate. The meat will acquire a golden color.This step is critical for a good tasting sauce!
 
Add wine, stir and evaporate.
 
Add one large can of tomatoes and the optional tomato paste.
 
As soon the sauce boils, lower the heat and simmer, covered, for at least another hour and a half, stirring occasionally.
 
Use as sauce for dried or fresh pasta, gnocchi, on top of fresh polenta, or to make lasagna or cannelloni.
Buon appetito!