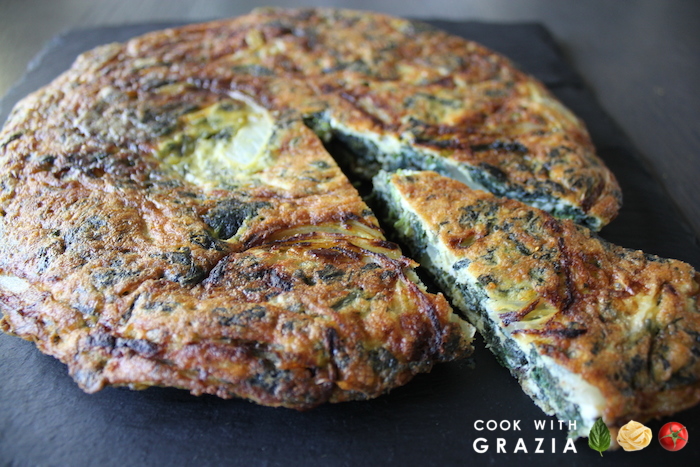 Eggs are a classic spring ingredient, and frittata is a fabulous Italian way of using them.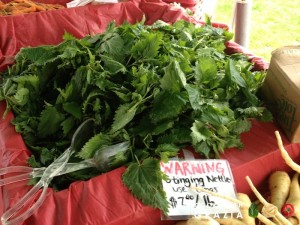 With stinging nettles, another seasonal wild ingredient, frittata takes on a new life and becomes a truly original dish. Serve with plenty of crusty bread and a green salad for a great main course, or just slice and serve as an appetizer, in a buffet, or even for breakfast. (Well, to tell you the truth, Italians would never eat frittata for breakfast, but that doesn't mean it wouldn't be delicious!)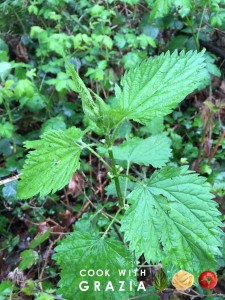 Nettles can be found wild or can be bought in several Farmers' market, and have a deep herbaceous taste.
I already mentioned the great benefit of eating stinging nettles, and how to use them to make a fabulous risotto.
Here is how to make a stinging nettle frittata, a dish that originates in rural Italy and represents the art of transforming neglected food into… Paradise.
Prep time: 30 minutes
Total time: 30 minutes
Serves 4 as main course, 8 as an appetizer
​
Ingredients:

½ lb. stinging nettles
½ onion or 2-3 spring onions (about 4-5 oz.)
1/3 cup extra-virgin olive oil
8 eggs
½ cup Parmigiano-Reggiano cheese, finely grated
½ tsp. salt
To taste, freshly cracked black pepper

Tools:

Prep bowl
Cutting board
Chef's knife
11-inch NON-STICK sauté pan (it must be non-stick)
Spatula
Two plates

 
Clean the nettles using gloves, removing the leaves from the harder stems. Drain.
Always using gloves, chop the nettles.
 
Finely slice the onion and place into the sauté pan with the olive oil. Cook for 3-4 minutes over medium until the onion has acquired a pale yellow color.
Gradually add the roughly chopped nettles. If you drained them completely, you may need to add 1/4-1/3 cup of water to avoid burning.
Cook them about 5-7 minutes at the lowest setting, until they have completely wilted and the water have evaporated.
Meanwhile, in a prep bowl, crack the eggs and mix with the salt, black pepper and Parmigiano-Reggiano cheese. Set aside.
 
Raise heat to medium under the sauté pan.Pour the egg mixture into the pan.
 
Stir just a little bit to incorporate the onions into the eggs. Lower to medium-low and cook for about 12 minutes, without stirring, until most of the eggs have solidified.
 
With the help of a spatula, transfer the frittata to a plate.
 
Cover with another plate, flip and slide the frittata back into the saute pan. Raise the heat to high and cook for another 2 minutes.
 
Slide the frittata onto a serving plate and enjoy.