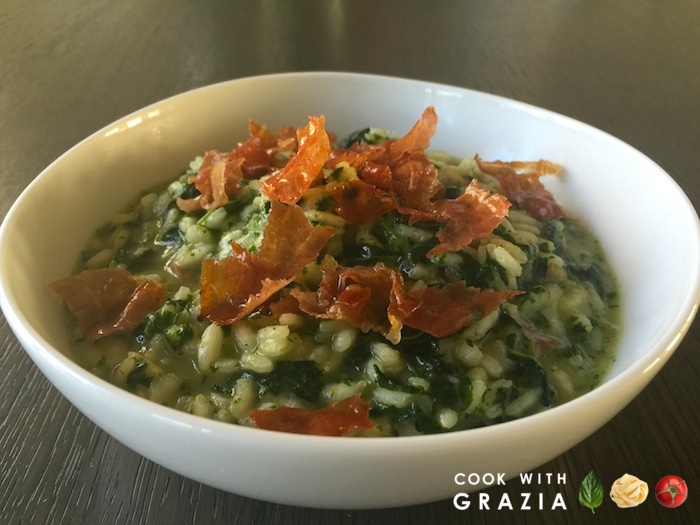 Stinging nettles (also known as burn nettle, burn weed and burn haze) definitely have a well-known downside, which I used to bump into very often growing up in rural Italy. But, because of its abundance, stinging nettle often appeared as food on my childhood table in fresh pasta, risotto and frittata. Besides stinging, which you can easily get around by using gloves, this wonderful plant has a versatile, deep herbaceous taste that will win you over. Nettles are rich in vitamins A and C, potassium, iron, manganese and calcium, and are higher in protein content than other plants (2.4 g. per cup of cooked leaves). They are also known as folk remedy for arthritis and other inflammatory diseases.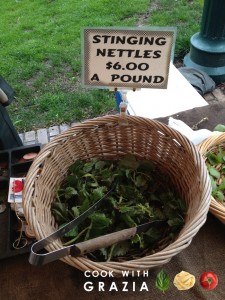 Stinging nettles are wonderful especially in early spring, before they flower, when still small and tender. You can pick yours in the wild or look for them at the local farmers market.
Here is how to make risotto with nettles, in two versions (with or without Prosciutto). The classic version uses just stinging nettles and maybe broth (which I would recommend). Prosciutto is a nice addition especially if you don't have good quality broth.
Prep time: 35 minutes
Total time: 35 minutes
Makes 4
Ingredients:

½ lb. stinging nettles (can you use spinach, kale or other leafy greens? Not stinging risotto anymore but… sure!)
4 Tbsp. butter
3 Tbsp. extra-virgin olive oil
8 slices of Prosciutto di Parma, about 4 oz. (optional. Can be substituted by same weight of pancetta, or even bacon)
1/3 onion or 2 spring onions (as the ones in the photo), about 4-5 oz.
2 cups of rice (Carnaroli, Vialone Nano or Arborio)
¼ cup white wine, dry
6 cups of broth (optional but nice to have, can be chicken, beef or even vegetable broth)
1 tsp. salt (less if using already salted broth, probably more if using just water)
½ cup Parmigiano-Reggiano, finely grated

Tools

Large pot with lid for cooking nettles
A large frying pan if using prosciutto (optional)
Another pot to heat broth (if using broth)
A large pot or a deep skillet for the risotto
Large prep bowl
Large metal colander (optional but nice to have)
Cutting board
Chef's knife

 
Clean the nettles using gloves, removing the leaves from the harder stems.
 
 Meanwhile bring 6 cups of water to a boil in a large pot with a lid. If you will be using broth, limit it to just one inch of water. Toss the nettles into the pot and cover.  Let them cook over low heat for about 4-5 minutes, turning occasionally (be careful not to burn especially if you are using only a little water).
 
Meanwhile, if using prosciutto, you can decorate your plate by crumbling crisp prosciutto slices on top of the finished dish, as shown in the photo (this step is totally optional, you can also decide to just use all the prosciutto as described in the following steps and do not bother about decorating your plate).  To make, dab half a tablespoon of butter in the pan you will use for the risotto and cook 3-4 slices of prosciutto over high heat for 1-2 minutes per side, until crisp. Place them on a rack or plate to cool.
 
Using tongs (or two forks), remove the leaves from the hot water and place them in a colander on top of a bowl (or just in a bowl) to let cool.  The nettles will not sting anymore, so the only thing to be careful about is heat. Do not throw out the cooking water – keep the heat at the lowest setting and cover the pot.  If using broth, heat it now in a separate pot.
Finely dice the onion and the remaining prosciutto, if using.Toss the onion and prosciutto (if using) in a large pot (or large and deep skillet) together with 3 tablespoons of extra-virgin olive oil and 2 of butter (keep the remaining butter for later).Sauté over medium-high heat for 3 minutes, until the onions have turned pale yellow in color.
 
 Add the rice and "roast" (in Italian tostare), stirring constantly, for a couple of minutes, until the rice acquires a pale blond color as well.  This will seal the rice grains and make them stronger, so they will not break during cooking.
 
Add the white wine and stir for 1 minute, letting it evaporate. Start adding the hot liquid, ladle by ladle.  Use just one or two ladles of nettle cooking water and continue with broth, if you are planning to use broth, or with more nettle water if you are not using broth. From now on, stir every 30 seconds or so.
 
Meanwhile slightly squeeze the nettles. If still hot, you can press them with the back of a spoon against a colander, or just squeeze the cooled nettles with your hands. Place the nettles on a cutting board and chop them into ½-inch squares. Add them to the risotto.
 
Keep adding broth (or nettle water), ladle by ladle, as soon as the liquid is absorbed, slightly covering the rice each time, always stirring, until the rice is cooked (usually rice takes 13-17 minutes to cook).  You will need approximately 5-6 cups of liquid in total.Add ½ tsp. of salt if using broth (usually already salted), at least one teaspoon if using only nettle water.  The broth (or nettle water) must be kept piping hot so that the rice maintains a gentle boil.   Taste for salt towards the end, and adjust accordingly.  The final consistency of the risotto should be creamy, silky and smooth (all'onda) — not soupy or clogged.
When the rice is cooked, turn off the heat and add the remaining butter and 1/3 cup of Parmigiano-Reggiano cheese. Stir vigorously to "mantecare" or blend and create a nice creamy consistency.  Let it rest for a couple of minutes before serving.  Use the remaining Parmigiano to pass as the table and sprinkle on individual servings.